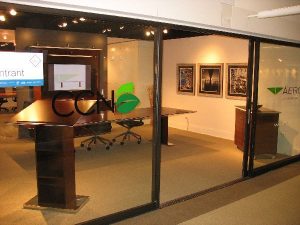 As with many successful companies, our origins were in the garage of one of the owners,  in our case, in the spring of 1972 in Rochester, NY. First known as Furniture Collaborative, we first began by producing prototypes and custom solutions for a large wood contract furniture manufacturer which at the time was also located in Rochester.
Our young company soon developed working relationships with local office furniture dealers, providing them with pieces not offered by the larger contract furniture manufacturers. There was a ready market for our company's willingness to fill in those missing pieces as well as the ability to match the fit and finish of comparable products in the marketplace, allowing the dealer to provide a seamless installation. These initial experiences gave us a solid insight into understanding the needs of the contract furniture market, preparing us to introduce our first products under our name, CCN International.
At that time we made the decision to relocate manufacturing from Rochester to Geneva, in the heart of the Finger Lakes region of beautiful upstate New York. We moved with the explicit goal of setting up a more automated and efficient manufacturing facility. Over time, a bulk of our products were custom pieces for clients unable to find what they required from the larger manufacturers. Our ability to offer such specialized solutions provided an entre into the niche market of bespoke furniture. We filled, and continue to fill, a gap between the furniture manufacturers that offer standard products, and the agility of a millwork shop. We continue to develop an array of standard platforms to offer our clients a consistent vocabulary, while tailoring each into a custom solution for the individual customer.
For over 40 years we've maintained a flexible manufacturing process while continuing to invest in value, adding equipment that enhances our capabilities. Our extensive veneering operation gives us the opportunity to offer a wide variety of wood species, our CNC machining stations give us precision components, and our finishing lab produces an impressive range of wood finishes. Our customer service team provides quotes, detailed drawings, and answers any questions you may have in a timely fashion. Our robust project management team keeps a close eye on your project after receiving your order. We always know where your project stands within the timeline.
CCN stands out from the crowd due to our craftsmanship and ability to respond quickly and precisely to very specific and individual needs of each of our clients.  That is how we got our start back in 1972, and that is how we've remained relevant in today's marketplace.
INNOVATION
Over the years CCN has developed a reputation for forward thinking design and engineering.
In the early 1980s the wood office furniture industry afforded  limited choices with regard to finish, form, or detail.  Species selections were restricted to oak and walnut.  Traditionally styled offerings with ogee edge detailing were available as were more contemporary with simple square, bullnose, or bevel edges. In 1983 we debuted an edge we named ELIPTIS which employed broad gradual arcs on both the top and underside. This made for an ergonomic top, an underside more compatible with chair arms and a more delicate appearance.  It or variations of it became an industry standard, often referred to now as a "pillow" edge.
1985 brought  ENCLAVE, our first full breadth product platform.  In addition to walnut and oak, cherry was introduced which soon became another industry standard as well.  A second platform, NUANCE, featured a small bead of high impact satin black plastic integrated into the edge which improved durability at the contact point between chair and desk or table edge in addition to adding a refined aesthetic element.  TOCOTTA followed, developed to showcase CCN's high level of craftsmanship and to encourage the use of multiple wood species via its specific detailing. Employing durable solid wood at all corners, edges and base, and transitional in style, it adapted well to a broad variety of environments, from traditional to contemporary.
As office environments became more electronics enriched, CCN kept constant pace, offering a wide range of options for wire management.  Unlike most manufacturers, location of devices and grommets was virtually anywhere the specifier preferred it.   BARRINGTON debuted, in response to the need for a traditionally styled product that could respond to the demands of computers and wiring.  To this day no other traditional style product answers these needs as thoroughly as can BARRINGTON.
CCN's craftsmanship was again the focus in the development of CROFTON and again needs associated with a wired work environment were well considered, this time in the context of the Arts & Crafts movement.   Employing V-fold construction technology for elements, CROFTON paved the way for more extensive use of this construction in POCHE'. Today it is often utilized in our bespoke projects.