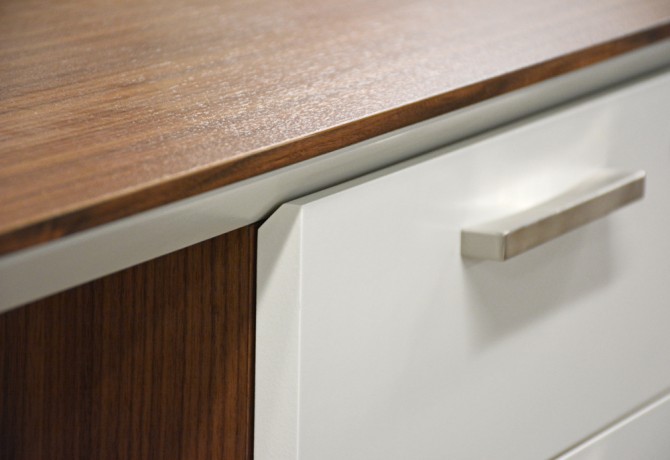 Bespoke Aero Casegoods
August 25, 2014
These Aero casegoods were built with contrasting drawer fronts and are part of the Aero product platform.  All of the pieces in the Aero platform can be specified with monochromatic veneer options, or finished with contrasting finishes, shown here in white.  While the Aero platform has become a standard product offering for CCN, each piece that we build is tailored for the end user.  Adjustments in length, width, height, and veneer options are common choices you can make within the platform.  So what makes these items bespoke?
Bespoke is an adjective for anything commissioned to a particular specification. "Custom-made", "made to order", "made to measure" and sometimes "hand-made" are near-synonyms. "Off-the-shelf" and in clothing "ready-to-wear" are the opposites. Modding is a slang related term, mostly used to refer to personalization after manufacture. The word bespoke is derived from the verb to bespeak, to "speak for something", in the specialized meaning "to give order for it to be made" or commission, first cited from 1583 by the OED, with the adjective in its alternative form "bespoken" first quoted from 1607 in this sense. The term is generally more prevalent in British English than American English, which tends to use "custom" instead, as in custom car, custom motorcycle etc.
Since its origin CCN has utilized this "custom-made" or "made to order" approach to building high quality, hand crafted office furniture.  We view every job as an opportunity for the customer or end user to get exactly what the want in the size and configuration they need as opposed to having to order "off the rack" and settling for what is available.  Visit us to see the CCN difference.